It's all change again! The big winners in the June 2023 SSL Nations Ranking is The Netherlands, who have moved up 4 places to #2, and France who have moved up one place to #3. Great Britain continue to command the top spot.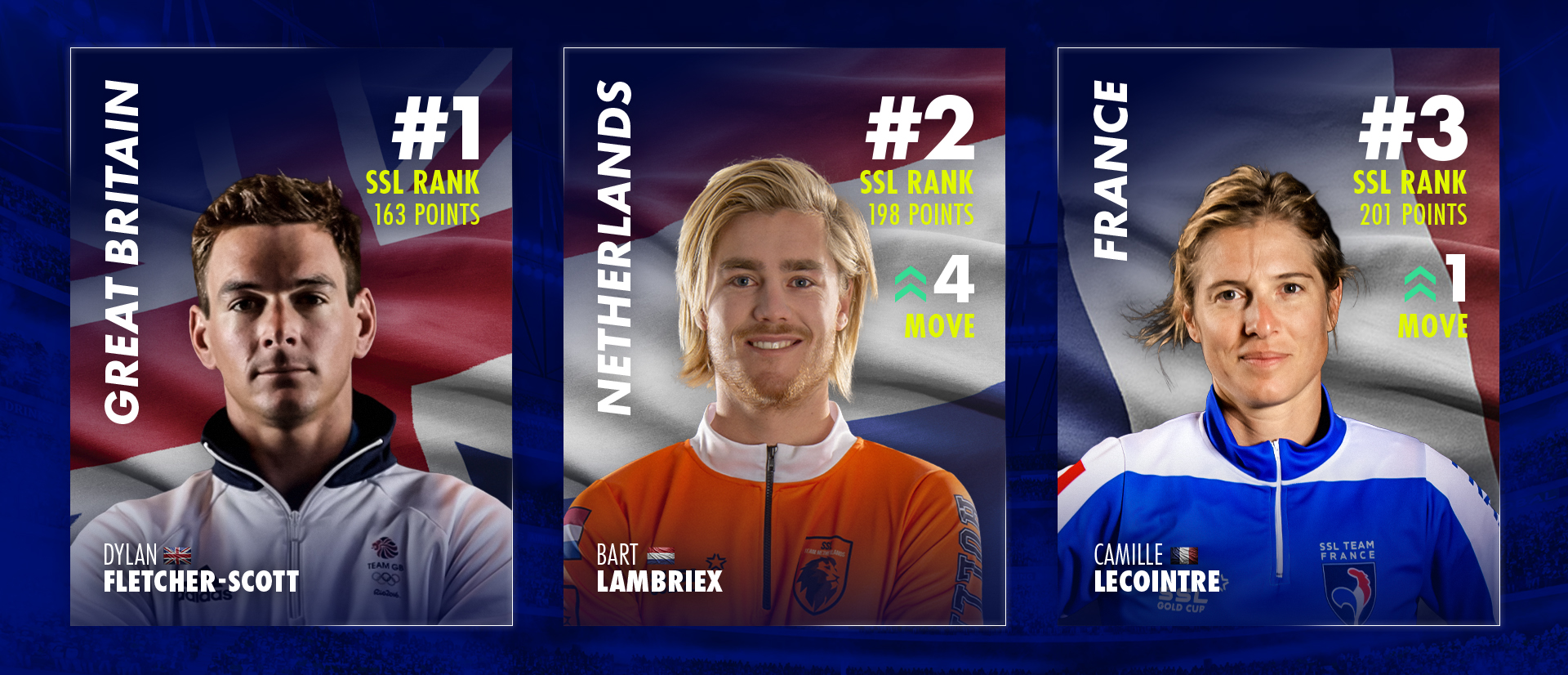 The USA and Spain have both dropped two places to #4 and #5 respectively.
The Netherlands big move has much to do with ILCA 6 sailor Maxime Jonker (SSL #72) moving up 32 places in the SSL Global Skipper Ranking. Her win at the World Cup Allianz Regatta 2023, held in her home country added 850 points to her tally, building on a string of top ten results in the Olympic discipline in 2022.
France has been helped by 470 crew Aloise Retornaz (SSL #29) and 29er / J70 crew Karl Devaux (SSL #31) both moving up the SSL Global Crew Ranking.
The SSL Nations Ranking is calculated by adding the top five ranked Skippers and top two ranked Crew from each Nation in the SSL Global Ranking, to give a points total. The lower the total, the higher your Nation is ranked.
SSL Nations Ranking – June 2023 (top 56)
| | | | | | | | | | | | |
| --- | --- | --- | --- | --- | --- | --- | --- | --- | --- | --- | --- |
| Pos | Nation | Skipper 1 | Skipper 2 | Skipper 3 | Skipper 4 | Skipper 5 | Crew 1 | Crew 2 | Pts | Sailors in SSL Ranking | Change since last month |
| 1 | GBR | 4 | 10 | 24 | 38 | 47 | 3 | 37 | 163 | 7 | 0 |
| 2 | NED | 6 | 7 | 25 | 72 | 77 | 5 | 6 | 198 | 7 | 4 |
| 3 | FRA | 19 | 22 | 28 | 30 | 42 | 29 | 31 | 201 | 7 | 1 |
| 4 | USA | 11 | 31 | 39 | 53 | 59 | 1 | 8 | 202 | 7 | -2 |
| 5 | ESP | 9 | 21 | 44 | 46 | 50 | 23 | 32 | 225 | 7 | -2 |
| 6 | ITA | 2 | 15 | 35 | 69 | 96 | 2 | 11 | 230 | 7 | -1 |
| 7 | GER | 20 | 34 | 40 | 58 | 68 | 40 | 41 | 301 | 7 | 0 |
| 8 | DEN | 3 | 41 | 54 | 70 | 109 | 18 | 56 | 351 | 7 | 0 |
| 9 | NZL | 17 | 18 | 128 | 129 | 131 | 16 | 25 | 464 | 7 | 0 |
| 10 | SWE | 14 | 33 | 106 | 135 | 137 | 49 | 55 | 529 | 7 | 1 |
| 11 | AUS | 12 | 83 | 89 | 168 | 179 | 7 | 24 | 562 | 7 | -1 |
| 12 | POL | 26 | 67 | 79 | 95 | 161 | 93 | 106 | 627 | 7 | 0 |
| 13 | SUI | 36 | 43 | 125 | 149 | 158 | 33 | 119 | 663 | 7 | 0 |
| 14 | HUN | 32 | 45 | 49 | 84 | 103 | 123 | 378 | 814 | 7 | 0 |
| 15 | BRA | 5 | 88 | 153 | 281 | 312 | 4 | 137 | 980 | 7 | 0 |
| 16 | CRO | 1 | 37 | 90 | 270 | 509 | 54 | 104 | 1065 | 7 | 0 |
| 17 | IRL | 27 | 56 | 187 | 210 | 372 | 196 | 269 | 1317 | 7 | 0 |
| 18 | GRE | 55 | 85 | 243 | 290 | 313 | 101 | 302 | 1389 | 7 | 0 |
| 19 | AUT | 119 | 177 | 255 | 314 | 357 | 68 | 113 | 1403 | 7 | 2 |
| 20 | NOR | 16 | 29 | 60 | 267 | 453 | 74 | 539 | 1438 | 7 | -1 |
| 21 | ARG | 139 | 252 | 331 | 337 | 350 | 10 | 75 | 1494 | 7 | -1 |
| 22 | BEL | 8 | 186 | 228 | 234 | 394 | 216 | 252 | 1518 | 7 | 0 |
| 23 | FIN | 51 | 237 | 266 | 389 | 428 | 60 | 248 | 1679 | 7 | 1 |
| 24 | RUS | 116 | 130 | 328 | 374 | 535 | 85 | 116 | 1684 | 7 | -1 |
| 25 | CHI | 154 | 160 | 182 | 253 | 600 | 189 | 234 | 1772 | 7 | 0 |
| 26 | CAN | 141 | 188 | 220 | 250 | 356 | 327 | 367 | 1849 | 7 | 0 |
| 27 | POR | 100 | 283 | 309 | 446 | 662 | 99 | 162 | 2061 | 7 | 1 |
| 28 | CZE | 63 | 163 | 201 | 760 | 803 | 122 | 193 | 2305 | 7 | -1 |
| 29 | ISR | 209 | 301 | 401 | 491 | 609 | 190 | 430 | 2631 | 7 | 0 |
| 30 | SLO | 108 | 512 | 537 | 697 | 730 | 26 | 66 | 2676 | 7 | 0 |
| 31 | UKR | 203 | 278 | 586 | 807 | 867 | 281 | 283 | 3305 | 7 | 1 |
| 32 | JPN | 80 | 82 | 585 | 686 | 1422 | 98 | 368 | 3321 | 7 | -1 |
| 33 | TUR | 341 | 516 | 593 | 763 | 1010 | 198 | 341 | 3762 | 7 | 0 |
| 34 | LTU | 296 | 325 | 521 | 1160 | 1182 | 331 | 401 | 4216 | 7 | 0 |
| 35 | EST | 101 | 235 | 879 | 1587 | 1676 | 136 | 176 | 4790 | 7 | 0 |
| 36 | PER | 23 | 65 | 102 | 432 | 497 | 1603 | 2468 | 5190 | 7 | 0 |
| 37 | HKG | 565 | 759 | 783 | 1028 | 1112 | 634 | 653 | 5534 | 7 | 0 |
| 38 | URU | 339 | 415 | 564 | 576 | 2541 | 336 | 1365 | 6136 | 7 | 0 |
| 39 | THA | 351 | 572 | 1179 | 1254 | 1383 | 1028 | 1119 | 6886 | 7 | 1 |
| 40 | SGP | 507 | 1117 | 1274 | 1344 | 1387 | 541 | 840 | 7010 | 7 | -1 |
| 41 | ECU | 138 | 322 | 1290 | 1727 | 2996 | 886 | 1094 | 8453 | 7 | 0 |
| 42 | IND | 490 | 495 | 1022 | 1957 | 2164 | 943 | 2179 | 9250 | 7 | 0 |
| 43 | RSA | 1367 | 1766 | 2142 | 2145 | 2451 | 47 | 228 | 10146 | 7 | 0 |
| 44 | BER | 97 | 875 | 1438 | 2071 | 2777 | 1254 | 2631 | 11143 | 7 | 0 |
| 45 | CHN | 1150 | 1359 | 1858 | 2804 | 3037 | 1247 | 1252 | 12707 | 7 | 0 |
| 46 | GUA | 223 | 280 | 886 | 1006 | 1148 | 4664 | 6986 | 15193 | 7 | 2 |
| 47 | COL | 346 | 1750 | 2801 | 3253 | 3481 | 1789 | 1869 | 15289 | 7 | -1 |
| 48 | LAT | 786 | 1202 | 1332 | 2067 | 3586 | 3539 | 3540 | 16052 | 7 | -1 |
| 49 | MAS | 768 | 1031 | 2635 | 3899 | 5063 | 1380 | 1975 | 16751 | 7 | 0 |
| 50 | MEX | 826 | 2694 | 3221 | 4015 | 4354 | 2765 | 2842 | 20717 | 7 | 0 |
| 51 | ISV | 421 | 1309 | 1959 | 3464 | 11747 | 30 | 1881 | 20811 | 7 | 0 |
| 52 | PUR | 294 | 500 | 2420 | 7375 | 9640 | 590 | 800 | 21619 | 7 | 0 |
| 53 | UAE | 767 | 1385 | 2061 | 2163 | 4252 | 2480 | 9810 | 22918 | 7 | 0 |
| 54 | MON | 1867 | 4608 | 4635 | 4682 | 4814 | 1769 | 1776 | 24151 | 7 | 0 |
| 55 | BLR | 1973 | 3624 | 3896 | 4443 | 5476 | 2394 | 2677 | 24483 | 7 | 1 |
| 56 | SVK | 1446 | 3786 | 4349 | 5218 | 6014 | 2187 | 2912 | 25912 | 7 | 5 |